« TT: Entries from an unkept diary | Main | CAAF: Afternoon coffee »
April 1, 2008
TT: Closing time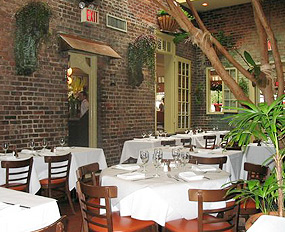 Le Madeleine, my favorite theater-district bistro, recently closed its doors--not voluntarily, alas. It was shuttered at the behest of a callous landlord.
The good news is that Toney Edwards, the owner, hopes to reopen soon in a new location. "We have located a possible place to move everyone and open up again within a very short time," he says. "If all goes well and we immediately gather a group of dedicated investment partners for the relatively small amount it would cost to start up in this already fixtured space, similar in size to Le Madeleine and where we could resume business once a liquor license was transferred, we will do so."
In the meantime, Edwards has started a blog at which those who miss Le Madeleine can post encouraging words. I've written about the restaurant many times, both in this space and in my old Washington Post column, and so I made a point of posting a comment on its unhappy demise:
I hoped it wouldn't happen, and now that it has, I'm appalled. Not only was Le Madeleine a regular pre- and post-theater stop for me, but I also went there countless times specifically to hear Gene Bertoncini. My wife and I loved Le Madeleine so much that we had the rehearsal dinner for our wedding there last October. I ate my last Le Madeleine dinner a week or so before the doors were closed, not realizing that time was short. A friend and I dined in the garden room after a play for which neither one of us cared--the meal was far better than the show! Please, please, please find a new home and open up as soon as possible. You are greatly missed.
New York restaurants come and go, but some of them mean more than others. If you've ever eaten at Le Madeleine, please think about sending its proprietor a message of thanks--and hope.
Posted April 1, 2008 1:18 PM
Tell A Friend