« TT: Almanac | Main | TT: Almanac »
January 28, 2008
TT: Coming up for air
On Saturday I took Mrs. T and her father to see Sweeney Todd at a small-town Connecticut multiplex. It was the first time in two and a half years that I'd seen a movie in the company of a paying audience. The night before, she and I drove down to Fairfield University to catch a performance by the Acting Company of Orson Welles' Moby Dick Rehearsed. Prior to that evening I hadn't set foot outside our rural Connecticut home since arriving there nine days ago, save for the most pressing reasons. I was busy writing the ninth and tenth chapters of Rhythm Man, my biography of Louis Armstrong, which between them come to 16,300 words. I also wrote a thousand-word drama column for The Wall Street Journal, and on Sunday I wrote a 2,500-word review-essay for Commentary about a new book called The Mighty Wurlitzer.
That's a whole lot of words, and it doubtless explains why I haven't been returning my calls lately, as well as why my blogging has been a bit desultory. Mrs. T and I are returning to New York tomorrow morning, and come Wednesday I expect to be plugged into the world again. For the moment, though, my head is still spinning. I expected at most to finish a rough draft of Chapter 9 of Rhythm Man last week, not to come back to New York with two fully polished chapters in my suitcase. I haven't had an experience quite like this since the orgy of work in January and February of 2004 that led to the completion of my last book, All in the Dances.
Such experiences are not the stuff of everyday life, and I need a break. Alas, I'm not getting one. My goal is to get another chapter of Rhythm Man written between now and February 9, when I fly to California to see six shows in the Los Angeles and San Francisco areas. But the end is finally in sight, and I can't begin to tell you how exciting that feels.
Sometimes I wish I lived the kind of life that would allow me to do nothing but write books. Not often, though: I'm well aware that I thrive on being able to move at will from task to task, and I love seeing two or three shows each week. Whether that makes me a better writer is, of course, another matter, and not for me to judge. My guess is that we are what we are, pretty much, and that I probably write about as well as I can, whether I'm busy or not.
But enough speculation: I have work to do, and while I'm doing it, I'll leave you with a fresh snippet of Chapter 10. I hope it pleases you.
* * *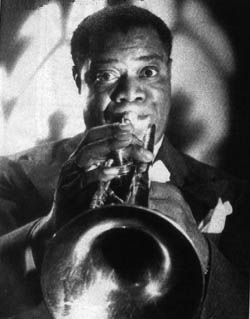 In 1940 Jack Kapp, who ran Armstrong's record label, unbent so far as to allow the trumpeter to cut a small-group date for Decca, his first of any significance since he had started recording with big bands in 1929. He did so in the stimulating company of Sidney Bechet, with whom he had made some of his best recordings of the Twenties. The session, which also featured Luis Russell and Zutty Singleton, was a deliberate attempt to evoke the old days. The tunes included "2:19 Blues," a traditional New Orleans lament that Jelly Roll Morton recorded the same year, and "Coal Cart Blues," a song by Armstrong himself in which he sang about selling coal on the streets of Storyville. It was touching to hear Armstrong and Bechet playing together for the first time in a decade and a half, but the results were musically uneven, and Bechet, for one, thought he knew why: "Louis, it seemed like he was wanting to make it a kind of thing where we were supposed to be bucking each other, competing instead of working together for that real feeling that would let the music come new and strong...it was like he was a little hungrier."
It didn't help that Decca's engineers buried Bechet in the mix (he is barely audible behind Armstrong's vocals). Just as important, though, the trumpeter was competing against himself when young, and his younger self had been given a decidedly unfair advantage by one of Jack Kapp's competitors. Life's 1938 article about the history of swing had inspired Ted Wallerstein, a Columbia Records executive, to hire George Avakian, a Yale undergraduate who was producing small-group jazz records on the side, to troll through the company's vaults and put together a series of reissue albums of "the original recordings that made jazz history." The resulting "Hot Jazz Classics" line was launched in 1940 with King Louis, a four-disc set that contained eight sides by the Hot Five and Seven, two of them previously unreleased. At last "Heebie Jeebies," "Potato Head Blues," and "Knockin' a Jug" were available again, packaged in a fetching yellow-and-red album. Columbia followed up King Louis with sets devoted to Bix Beiderbecke, Fletcher Henderson, and Bessie Smith, plus a second album of Hot Fives and Sevens whose liner notes, written by Avakian, proclaimed "Armstrong's early OKeh records" to be "perhaps the most important he ever made--and the best."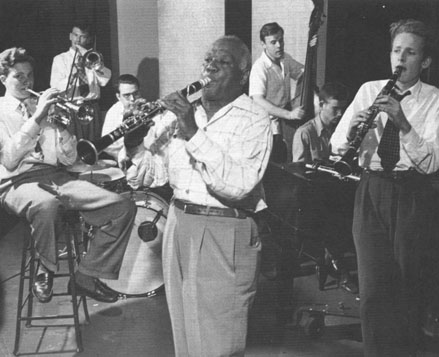 True or not, they were certainly better than the four new sides he had recorded with Bechet, an experiment that in any case would not be repeated. Armstrong may have longed in his heart to be playing small-group jazz, but he knew that the big money, at least for now, was in big bands. He had watched Joe Oliver hesitate over leaving Chicago for New York: "The agents and everybody...had wanted to bring him in someplace, any night club, with his band. But Joe wouldn't leave. 'I'm doing all right here, man,' he'd tell them. He had good jobs with good tips. So time ran out on him. He looked around, and when he came to New York--too late."
That had been bad enough. Then, in 1937, Armstrong had run into his mentor on the streets of Savannah, pushing a vegetable cart and looking old and desperately tired. He emptied his pockets and gave all the cash he had to Oliver. That same night Papa Joe came to the dance at which Armstrong's band was playing, looking "sharp like the old Joe Oliver of 1915....Stetson hat turned down, high-button shoes, his box-back coat. He looked beautiful and he had a wonderful night, just listening to us--talking." A year later he was dead, and a year after that Armstrong received a letter from Bunk Johnson, another of the musicians he had known as a boy in New Orleans: "Your old boy is down and in real deep need for an upper plate and also a bottom plate and cannot make money enough to have my mouth fixed....Let your friend Bunk hear from you as I cannot blow any more." That settled it. Armstrong may not have wanted to die rich, but neither did he mean to live poor.
Posted January 28, 2008 12:00 AM
Tell A Friend