« TT: Almanac | Main | TT: Happy anniversaries »
December 13, 2007
TT: So you want to see a show?
Here's my list of recommended Broadway, off-Broadway, and out-of-town shows, updated weekly. In all cases, I gave these shows favorable reviews in The Wall Street Journal when they opened. For more information, click on the title.
Warning: Broadway shows marked with an asterisk were sold out, or nearly so, last week.
Because of the recently settled stagehands' strike, many Broadway shows are offering heavily discounted tickets to certain performances. For information, go here.
BROADWAY: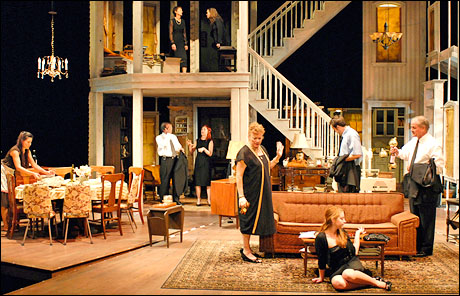 • August: Osage County (drama, R, adult subject matter, closes Mar. 9, reviewed here)
• Avenue Q (musical, R, adult subject matter and one show-stopping scene of puppet-on-puppet sex, reviewed here)
• A Chorus Line (musical, PG-13/R, adult subject matter, reviewed here)
• The Drowsy Chaperone (musical, G/PG-13, mild sexual content and a profusion of double entendres, reviewed here)
• The Farnsworth Invention (drama, PG-13, reviewed here)
• Grease * (musical, PG-13, some sexual content, reviewed here)
• Rock 'n' Roll * (drama, PG-13, way too complicated for kids, reviewed here)
• The Seafarer (drama, PG-13, adult subject matter, reviewed here)
• The 25th Annual Putnam County Spelling Bee (musical, PG-13, mostly family-friendly but contains a smattering of strong language and a production number about an unwanted erection, closes Jan. 20, reviewed here)
OFF BROADWAY:
• The Fantasticks (musical, G, suitable for children old enough to enjoy a love story, reviewed here)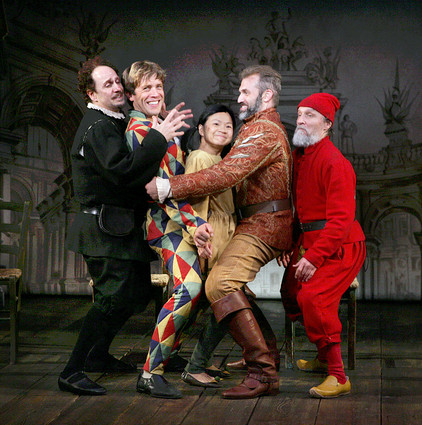 • The Glorious Ones (musical, R, extremely bawdy, closes Jan. 6, reviewed here)
MILLBURN, N.J.:
• Meet Me in St. Louis (musical, G, completely family-friendly, closes Sunday, reviewed here)
CLOSING SOON
IN NEW YORK:
• Pygmalion * (comedy, G, suitable for mature and intelligent young people, closes Dec. 16, reviewed here)
• Things We Want (drama, R, adult subject matter, closes Dec. 30, reviewed here)
• West Bank, UK (musical, R, adult subject matter, closes Sunday, reviewed here)
Posted December 13, 2007 12:00 AM
Tell A Friend