« TT: Visual footnote | Main | CAAF: Afternoon coffee »
December 7, 2007
TT: Broadway's back
I've basically been doing nothing but going to Broadway shows (and Sweeney Todd) and writing about them for the past few days. Today's Wall Street Journal drama column contains the first fruits of my recent theatrical labors. In it I review four shows, three of them new plays that opened on Broadway this week: Aaron Sorkin's The Farnsworth Invention, Tracy Letts' August: Osage County, Conor McPherson's The Seafarer, and a new off-Broadway musical called West Bank, UK. Here's a preview of the column.
* * *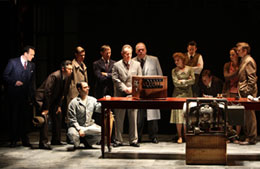 While "The Farnsworth Invention" is as slick as "Studio 60 on the Sunset Strip," it's also impressively earnest, and its subject is the less-than-burning question of Who Really Invented TV. And you know what? It's good. Not great, you understand, but a rock-solid two-base hit.
The Farnsworth of the title is Philo T. Farnsworth (Jimmi Simpson), a small-town science geek who more or less invented electronic TV in his garage, thus running afoul of David Sarnoff (Hank Azaria), the CEO of RCA, whose scientists had been trying without success to do the same thing. Sarnoff thereupon unleashed a pack of high-priced lawyers on Farnsworth in an attempt to seize control of the patents that protected his invention. That sounds suspiciously like a courtroom drama, but instead Mr. Sorkin has written a clever history pageant that juxtaposes Farnsworth's dogged experiments with Sarnoff's meteoric rise through the ranks of corporate America, in the process stuffing a stiff dose of interesting information about the early days of radio and TV down the audience's collective gullet.
Farnsworth and Sarnoff tell one another's stories in "The Farnsworth Invention," an ingenious conceit that keeps the action ping-ponging back and forth between the two characters. Mr. Azaria plays Sarnoff as a tightly coiled tough guy with a sandpaper voice, while Mr. Simpson's Farnsworth is engagingly and believably sincere. Des McAnuff's staging roars along like a high-speed tank, and the other 17 members of the cast, all of whom play multiple roles, put personal spins on even the smallest parts....
The Steppenwolf Theatre Company is performing Tracy Letts' "August: Osage County" on Broadway. Mr. Letts' new play is a 13-character, three-and-a-half-hour monster about the Westons, an Oklahoma family so dysfunctional that it's a wonder they're not all dead. Repeat after me: adultery, alcoholism, drug addiction, incest. One of them is even a poet!
No doubt it sounds like Tennessee Williams on a bender, but what makes "August: Osage County" so excitingly watchable is that Mr. Letts has (mostly) chosen to play these grim matters for laughs. The horrific family dinner at which Mom Weston (Deanna Dunagan) pops a double handful of downers and starts settling scores is a glittering piece of black comedy, and the cast, consummately well directed by Anna D. Shapiro, plays it to perfection....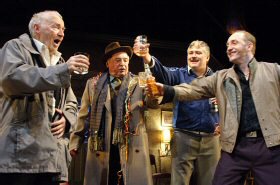 Conor McPherson has given us a Christmas show for the suicidally depressed. "The Seafarer" is one of those capital-I Irish plays whose characters, one of whom (Ciarán Hinds) turns out to be the Divvil Himself, get falling-down drunk, hint broadly that there's more to life than death and spout four- and seven-letter words starting with "f" in rich, peaty brogues. It is also--no fooling--worthy of comparison with the finest work of the young Brian Friel.
Strong words, I know, but the 36-year-old Mr. McPherson has earned them. Like Mr. Letts, he's written a midnight-black comedy, one that wrenches laughter out of the despair of frustrated men whose lives have come to naught....
Oren Safdie ("Private Jokes, Public Places") and songwriter Ronnie Cohen have given the "Avenue Q" treatment to the Israeli-Palestinian conflict in "West Bank, UK," a caustically witty four-person musical with a Middle Eastern-flavored score that succeeds in wringing hard-nosed fun out of deadly serious matters. You were expecting maybe a comic duet sung by a pair of suicide bombers? Well, that's what you get--and it works...
* * *
To read the whole thing, go here.
Posted December 7, 2007 12:00 AM
Tell A Friend